Printboer or Printboerke, as we call it in Helmond and Brabant, is a term that goes back quite far in time. This dutch term called printboer, which is widely used nowadays, mainly has to do with the PCB industry.
People are simply looking for a printboer as a "helping hand" in a process to a well-developed printed circuit board. A printboer (literally translated as a print farmer or printmaker) develops completely tailored to the wishes of the customer of client and gives them advise based on good research. He works with CAD software in which the final PCB will be designed. In particular, he can choose the shape and size of this printed circuit board and takes into account the thickness and materials of the final PCB design. In short; specialized from concept to finished PCB product.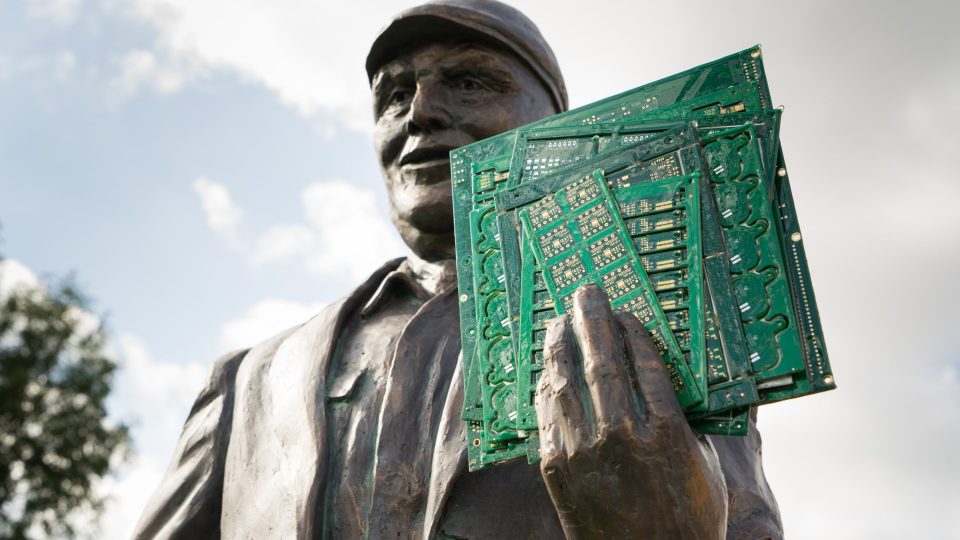 Where does the term printboer come from?
Printboerke, a term, as we have already indicated, that goes back quite far in time. The story behind this brings you back to the markets as we know this is in the Netherlands. On this particularly market sellers and buyers are negotiating about a price for PCBs.
Negotiating in printed circuit boards used to be done with the principle of "clapping hands" in dutch "handjeklap". This way of trading was previously used on cattle markets, but certainly also in the PCB industry.
The seller and the interested party join hands to agree on a price and continue until the seller no longer "slaps" but gives a handshake. Something very normal in that time that used to happen daily.
A printed circuit board designed by printboerkes AQC
Advising a printed circuit board design is a daily routine for AQC as printboerkes. We therefore increasingly see that certain situations and applications have not been properly considered. For example, unnecessary use of complex technologies, panelization, choice of production partner, correct order quantities and possibilities in repairs.
We are able to help you with this.
AQC has plenty of experienced employees who have the right and necessary knowledge. Therefore, AQC can be added value in this, as we use our common sense from the beginning.
For example, AQC can be your advisor for a 2-layer PCB design, but also for more information about more complicated printed circuit board designs.
AQC is happy to advise you in the possibilities of the printed circuits world and helps you where necessary in the entire PCB design process. Which ultimately results in the desired PCB. All with common sense, which has been included from the beginning.
Common sense
AQC would like to be known as "the printboerkes" of Helmond and surroundings. Those who use common sense. We can guarantee this, not only by using common sense, but also because of various competencies that AQC is known for;
acting innovatively
empathy
assertiveness
anticipate
analytical ability
For example, we are able to advise in your wishes for the PCB prototype design process. Let us advise you which PCB design is the best solution for you!
Please contact us via: info@aqcbv.com or +31 (0) 88-0045500 or via our contact form; https://www.aqcbv.com/nl/contact/
ProductsDiscover products
The most ideal manufacturer for each type of product. Quality/delivery time/price/volume/reliability/technology. Please specify what is important for you.
Request a quote
CapabilitiesExplore capabilities
Not only capabilities in products but also in production locations on other continents. This allows AQC to easily switch in case of a calamity.
Explore capabilities
Do you have any questions or want to make an appointment?Contact us